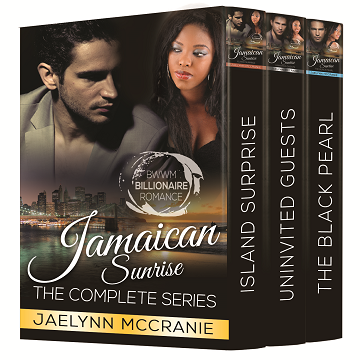 Bundle + Bonus
Publisher:

Xplicit Press

Available in:

Kindle, ePub
Can desire plus spontaneity equal true love or will harsh reality create a negative result?

Alex Ramsey believes his business trip is going to be dull and boring as always but he's pleasantly surprised when he meets Sabrina Kellum. The beautiful, sassy waitress proves to quickly spark his interest and soon they start a sensual love affair. After a spur of the moment decision leads them straight to the alter, will their new love be enough to keep the fire going or will the secrets Alex's hiding blow the flames of their love out?
The Jamaican Sunrise Series follows the hot and spicy romance of Alex and Sabrina in three alluring tales:
Island Surprise: Alex believes his business trip to Jamaica will be the same as any but once he meets Sabrina, his trip swiftly becomes anything but ordinary. Could meeting with the sexy Sabrina just be a temporary distraction or has he finally met a woman who could be the best thing that's ever happened in his life?
Uninvited Guests: After shocking his family with the news of their surprise wedding, Alex and Sabrina escape the naysayers by way of their honeymoon in Alex's vacation home. But when Sabrina finds out about Alex's "open door" policy with his friends, will what she learns about what's truly going on there make her regret her decision to jump the broom?
The Black Pearl: Sabrina wants to tell Alex what she learns about his friends but she doesn't want it to come between her and her husband. Will her love for Alex be enough to keep them together or will Alex's relationship with his friends tear them apart?