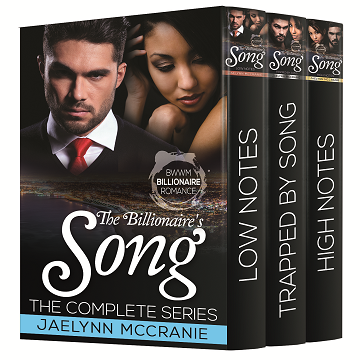 Bundle + Bonus
Publisher:

Xplicit Press

Available in:

Kindle, ePub
Will the passion for success overcome the siren's song for true love?

Trenton Lively is a record executive with a life that many dream of: money, fast cars, women and a sprawling Malibu estate to die for. He knows he has it all and feels as if there's nothing he's really missing, that is until he meets Toni Lorette, a captivating beauty with the voice of an angel. Sparks begin to fly between them as Trenton takes it upon himself to turn Toni into the next singing superstar but will their relationship stay strictly professional or will losing the grip on his personal feelings cause everything to spin out of control?
The Billionaire's Song Series tells the story of Trenton and Toni's provocative romance in three seductive volumes:
Low Notes: When Trenton hears the sultry Toni sing at a party in his home, he knows she has what it takes to become a star. But can he focus on the music and keep his attention on the business or will his hidden feelings for her rise to the surface?
Trapped by Song: As Trenton begins to spend more time with Toni, both in and out the studio, she realizes that she's beginning to fall for him. Will Toni keep her focus solely on her music or will she risk a relationship with a man who could make or break her future in the music business?
High Notes: Trenton wants to control every aspect of Toni's career and own her in every way that's possible but when he tries to throw his weight around, she makes it clear that she will not be bought. Can he set his pride aside and fix the mess he's made by being too possessive or has he lost his only chance to capture Toni's heart?